(Click on the first image at bottom to open a slide show pop-up.)
This spring's It's My Park Day was yet another lovely day made successful by the continued support of our neighbors.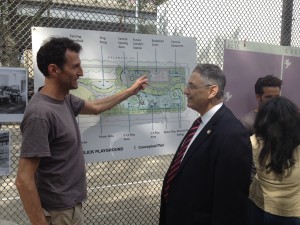 Assembly Speaker Sheldon Silver, who helped us navigate the DOT grant process and who allocated $1 million toward the renovation, was kind enough to visit, meet with our neighbors, and discuss the design and programming. We were pleased to see newly elected Borough President Gale Brewer, too, who showed enthusiasm and appreciation for our community outreach and our goals. She hopes to be able to help with funding new programming.
Many thanks to The Henry Street Settlement's youth services program for co-sponsoring the basketball clinic & tournament. They run a great program for middle and high school age kids.
The excellent, klezmer-inspired jazz was brought to us by Jeremy Danneman and his Trio. They are recording a record very soon, be sure to follow him Facebook, Soundcloud, or Twitter, and check out his interesting nonprofit, Parade of One. We owe thanks to Kevin Zubek, the trio's drummer and a neighbor who uses the park, for securing the music.
Finally, congratulations to Jeremy, the ping pong tournament winner (image below), who survived from the first match to the last, deftly and graciously besting every single opponent!