About us | Action areas | Contact us
In the early spring of 2009, Dave Bolotsky—a fourth generation Lower East Sider—decided that the park at the end of his block had been neglected long enough. It was time for the Lower East Side community to get the park it deserved. He wrote to Mayor Bloomberg and received a response from Parks Commissioner Benepe, offering a few encouraging suggestions.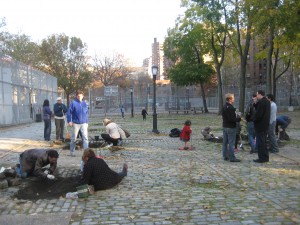 Dave then worked to convene a listening session in the park. He and a few other volunteers managed to spread the word and attract over 75 people to speak their mind about Gulick Park and Playground. Bob Redmond and Robert McLean, both from Parks and Recreation, were their to hear people out and take suggestions. Representatives from Senator Squadron's, Assemblyman Silver's, and Councilmember Gerson's offices attended, as well.
From this event, a group of 9 people committed to forming a steering committee, focused on organizing for the long-term success of Luther Gulick Park and Playground. They meet monthly to assess our progress and plan for the future. Each committee member heads up a subcommittee to focus on a single aspect of our efforts. See our subcommittees page for more details.
The listening session also produced a large e-mail list of supporters—over 90 people—and some press at the Lo-Down Blog.
Not long after this, Councilmember Alan Gerson took the first step by quickly allocating $360,000 in capital funding for the future renovation of Luther Gulick Park and Playground.
Once the steering group got going, they realized a Community Day event in September 2009 with face painting, origami lessons, free bike repair, raffles, a handball tournament, and plantings. Over 100 people attended, greatly increasing the size of our supporters. This time Assemblyman Silver, Senator Squadron, Councilmember Gerson, John Liu, Cy Vance, and Richard Ropiak of CB 3 all personally attended. Again the Lo Down reported, creating this great little video featuring some of the steering committee.
They followed this up with a smaller Bulb Planting in November. Parks donated about 500 tulip and daffodil bulbs that will come up in the spring. Over 40 neighbors participated.
The committee is continuing to work on hosting more events, further lobbying for capital improvement funding, and reaching out to more neighbors for input on the future renovation design.
For our community visioning process and related events, see that section of our Web site.
The Steering Committee Members
The members of the steering committee have experience in founding and running a business, founding and running a community garden, community organizing and political liaising, editing and writing, architecture, landscape architecture, and working on a residence board. They live in the Hillman Housing Co-op, Amalgamated Co-op, Baruch Houses, and the Masaryk Towers.
Other Partners
The Partnerships for Parks selected four of us to participate in a training academy to provide expert advice to further our work.
Jordan Pender and Kirsti Bambridge, both of Partnerships, work closely with us, offering their experience, ideas and guidance.
Anne Frederick and Dylan House, both of The Hester Street Collaborative, are integral to our visioning process.