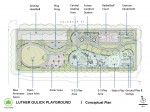 Speaker Silver allocates $1,000,000.
The good news continues to roll in for Gulick Park, bringing some sunshine in with the Spring!
Last time we wrote, we indicated that we still needed about $700,000 to cover the cost of the renovation. Well, not any more!
Continue reading Renovation is Fully Funded! Come Celebrate!